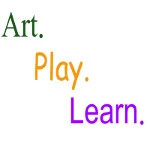 Art, Play & Learn
Homeschool Tutorials
Art. Play. Learn.
9811 Mallard Drive, Suite 111, Laurel, MD 20708
Sep. 11th - Dec. 8th
Homeschool Tutorials for PreK through High School!

* Universally Inclusive
* Creative & Play-based Strategies
* Peaceful & Positive Classroom Management
* Hands-on, collaborative projects, games and creative activities make learning fun, social and engaging.
* Small groups
* Strong focus on social skills, student choice & interest, creative problem solving and real-world applications of academic skills and knowledge
* Unschooling and Eclectic Homeschooling friendly

We customize our curriculum to each group of students each semester so you will have a new experience every time you join a program. We use Universal Design for Learning to include everyone. This is not a sit and listen experience. We play, cook, sculpt, paint, sing, dance, act, build, and encourage students to actively discuss topics adding their own perspectives and background knowledge. Our plans often change as we discover the interests of the group.

In-person programs cover multiple subjects or are subject specific (Spanish, Art, Black History etc.). Zoom-based programs are single subject: Japanese, Spanish, Art & Literature, etc)

"I have had my daughter enrolled in the Pre-K/Kindergarten class at Art Play Learn since last Fall. She really loves the time she has to play with other kids her age while also learning and creating. She comes home after each class with art and/or writing projects that she's very proud to show me. Meredith is very sweet and treats the kids very kindly and talks to them with a lot of respect. My daughter looks forward to going back each week!"

"As unschoolers we look to our childrens' interests for inspiration. When our son wanted to learn Japanese in a face-to-face class, I wasn't sure I'd find it. I was so glad to find and speak with Meredith at Art.Play.Learn. I found her both professional and personable. Our son says "she makes class feel like family" and shares that Meredith is "energetic and has a playful way of explaining things that makes class and learning fun".

Site tours and Q&A meetings encouraged.